In Memorium
The following past members and friends of the band are sadly now deceased and this page is dedicated to their memory. They are listed according to the year that they passed away. May they Rest In Peace.
Donnacha "Birdie" O'Meara (1970 – 2002)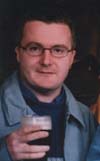 Donnacha was born of a very musical family and his musical inheritance was put to very good use throughout his short life. He started playing tin whistle at 8 and first picked up a trombone at 10. He took lessons on trombone and joined Mount Sion Silver Band at 12. He passed the audition for the Irish Junior Youth Orchestra at just 12 years of age and at 16 moved up to the Irish National Youth Orchestra where he was a constant source of merriment until he was 23.
Birdie enrolled for a degree in Music at Waterford Institute of Technology at 18 and completed it successfully. During his time there he developed a keen interest in computing and this was to be his ultimate chosen career as a programmer with Complete Business Solutions in Dublin.
Making music was Birdie's passion. Along with the tin whistle and trombone he also mastered classical guitar, and even taught himself piano when he discovered that Grade 2 was a prerequisite for his degree application – all in 3 months! Besides the Mount Sion Silver Band Birdie played with all the following at some stage in his musical career: The jazz group 14, Salsa Brava band, Night in Havana Orchestra, Barrack Street Concert Band, Stedfast Brass Band, pit orchestras at Waterford Theatre Royal, and the Irish Wind Ensemble. If there was music to be made, and craic to be had, he was there.
Tragically, Birdie left us on the 21st December 2002 but those of us who remember him always talk fondly of his quick wit, his good humour and his generous spirit.
Brother Terence Hilary Devitt CFC (1918 – 1999)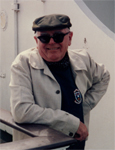 Terence Devitt was born in Belfast on 21 January 1918, the eldest son of Terence Devitt and Margaret Ellis. He was educated at the Christian Brother's schools at Divis and Barrack Streets, Belfast. As a Christian Brother he taught in Drogheda, Cork, Kilkenny, Dublin, Tramore, Dun Laoghaire, Doon (as superior and principal), Doneraile and Waterford. He joined the teaching staff of Mount Sion C.B.S. secondary school in 1973, and following his retirement from teaching he continued to live in Mount Sion.
During his retirement, Brother Devitt devoted most of his time to Mount Sion Silver Band and he did so up until his death on 11 June 1999. He spent every weekday lunchtime and evening tutoring and guiding the young musicians in the bandroom. It is no small testament to his, and Liam Walsh's, untiring dedication to teaching music at Mount Sion that so many ex-members of Mount Sion Silver Band reached such high musical standards, and indeed continue to do so to this day. Many former pupils of Brother Devitt will testify that it was his enthusiasm for music which instilled their own life-long love for music in them. He was never more proud than when Mount Sion Silver Band won at competition, whether it be as Soloists, Quartets, Ensembles, or as a Full Band.
It would be remiss not to mention Brother Devitt's other talents. As well as being a distinguished teacher, he was a capable administrator, an enthusiastic sportsman, a talented musician on numerous instruments, a gifted artist, and above all, he is remembered for his tremendous sense of humour.
Brother Terence Hilary Devitt died in Waterford Regional Hospital on Wednesday, 11 June 1999. He was survived by his sisters Greta Smyth, Marie Farrelly, brothers Basil and Fr. Thomas CP, sister-in-law Pauline Devitt, nephews, nieces and friends. Two of his brothers, Brian and Fr. Leonard CP predeceased Terence.
Fintan O'Carroll (1922 – 1981)

Fintan O'Carroll was born on 31st July 1922 in Wexford, and spent most of his life in Waterford. On completion of his secondary school studies Fintan took up a position as a Clerk in C.I.E., the national railway.
He won first prize in a traditional music competition, aged 12, playing violin, and went on to study violin at home, taking lessons as and when the opportunity arose. While working at C.I.E. Fintan undertook a correspondence course in Music from Trinity College, Dublin. His heart was in music, and he left C.I.E. in 1967 after 27 years service, whereupon he completed his degree at Trinity to gain his B.Mus. along with the Prout Prize for the most outstanding student of the year. All the time Fintan had taken a keen interest in composition, particularly sacred music.
Fintan became a fulltime teacher at the Presentation Convent Secondary School in Waterford, a job which payed about half the salary in C.I.E. at the time. He supplemented his income by taking 52 private pupils, conducting 2 brass bands, and led the orchestra in every musical show that offered.
Some of the many musical organisations that owe a debt of musical gratitude to Fintan, whether it be as leader, violinist, conductor, organist, composer, or founder include Waterford Orchestral Players; Waterford Festival of Light Opera Orchestra; St Saviours Church, Bridge Street; the Franciscan Friary; the Church of SS Josephs and Benildus; St Patrick's; Waterford Cathedral; St Patrick's Brass Band; HFC Brass Band, New Ross; Mount Sion Silver Band. It is particularly with the brass bands that we are interested and it is fair to say that Fintan brought a sense of musicality and musicianship to these bands which helped greatly in the development of their players and the  achievement of  competition successes at all levels. Many musicians have commented later in their life that it was the love of music instilled in them by Fintan that carried them through their own musical lives.
One of the proudest moments of Fintan's musical career must have been when his Mass of the Immaculate Conception was chosen for the occasion of the visit of Pope John Paul II to Limerick in 1979. He took part in the Offertory Procession on this momentous occasion.
Fintan died in July 1981 and was survived by his wife Josephine, a fine contralto voice, and whom he credits with much of his own success. They had six children: Fiona, Deirdre, Fergus, Declan, Kevin, Aoileann, and Cian, many of which play a very active role in the musical life of Waterford and beyond.